EMBROIDERED BELTS CUSTOM MADE IN JAPAN
Over the years ChokeSports.com and Isami have built a strong reputation for producing some of the best and most beautiful martial arts belts money can buy. We are experts on making dreams come true and our custom made belts are always unique and of unbeatable quality.
Among our customers there are literally dozens of iconic names in martial arts who get their black belts directly from us. From Kyokushin branch chiefs to Brazilian Jiu-Jitsu legends all the way to UFC fighters.
Each belt is carefully made by our team in Saitama, Japan. Every single detail is made to perfection. These unique belts often feature beautiful embroideries from some of the most respected artists in Japan. The level of craftsmanship involved is just insane. You have to see it to believe it. Well, now you can!
The video on this page was shot at the Isami factory in Japan. We show different stages of production and bring you up close where dreams become reality. Enjoy!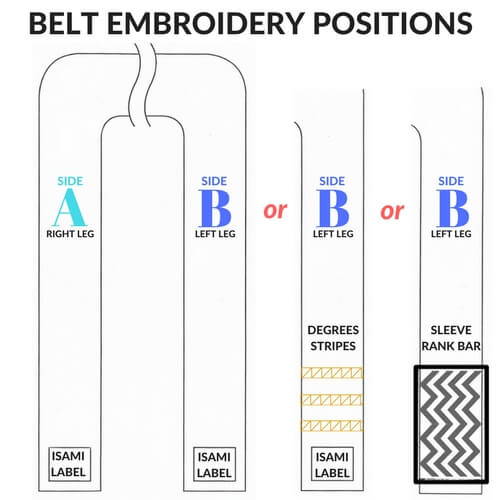 YOU PICK EVERY SINGLE DETAIL
Besides the different belt models available in our line-up, we also give you many options to customize your new belt so that it matches your needs and tastes.
There are over 20 embroidery colors, many fonts, Japanese lettering, rank bars, stitched degrees etc. No matter your style, you can be sure our premium belts will be a perfect fit.
RANK BELTS: SOFT OR STIFF
You will find our belts in the most traditional martial arts schools in Japan and all over the world. Our Japanese rank belts come in 12 beautiful colors that are suited for all styles of martial arts.
The soft core belts are lightweight and have a "broken-in" feel. Our sitff belts, also knows as thick core belts, have a premium finish and feel sturdy around your waist, unlike any other color belts on the market.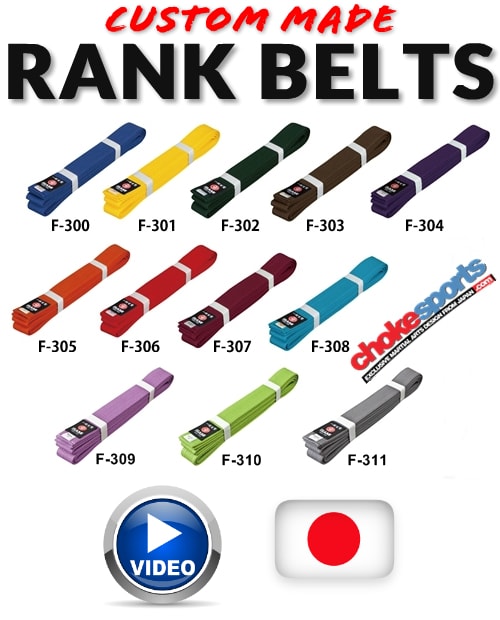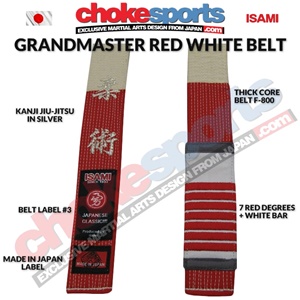 FOR MASTERS & GRANDMASTERS
We have the ultimate master and grandmaster belts for martial arts. Custom made in Japan with beautiful embroideries. Here at ChokeSports.com you can buy red belts, black-red coral belts, red-white candy cane belts with the exact specifications you need. Our master belts are suitable for judo, karate, brazilian jiu-jitsu, aikido, kenpo and other styles.