CHOKESPORTS EMBROIDERY
ChokeSports.com and Isami are known for producing some of the best and most beautiful martial arts embroideries in the world. We have a team in Japan dedicated exclusively to embroideries. Our company uses only the best machines and materials to embroider martial arts belts and uniforms of unbeatable quality.
---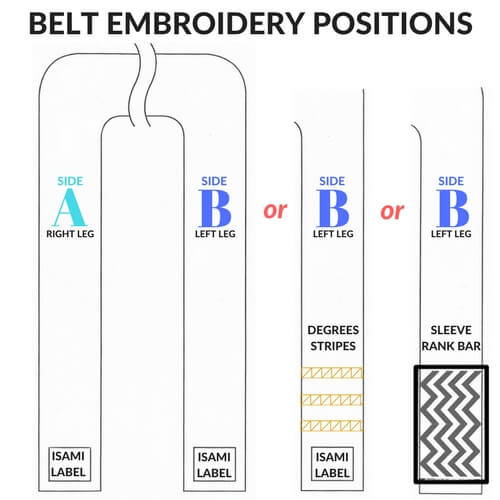 BELT EMBROIDERY POSITION
You can add embroideries on both ends of the belt.
When the belt is tied Side A stays over your right leg and Side B stays over the left leg.
If you choose to add a rank bar and/or degrees to your new belt, it will be placed by default on Side B (left leg).
BELT EMBROIDERY SIZE
We reserve maximum 20cm/8in of each belt end for embroideries.
Our standard character size is about 2.5cm/1in which means we can fit up to 8 letters in the allotted space.
If your embroidery request exceeds that, we will resize the letters to make them fit within the 20cm/8in space.
---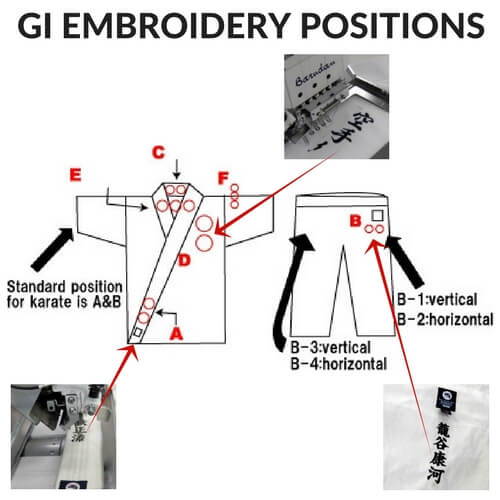 GI EMBROIDERY POSITION
There are 9 embroidery positions on our Isami Gis.
You can request embroideries on both Jacket and Pants.
GI EMBROIDERY SIZE
Our standard character size is about 2.5cm/1in, though this may vary depending on the position and the available space on the uniform.
The size of a particularly long name for example will be reduced to fit the maximum possible embroidery length.
Left chest (vertical only): maximum 5 cm / character, maximum 15 cm length.
---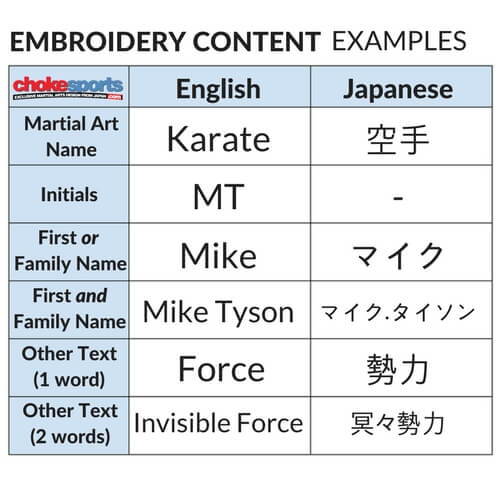 We are famous for our one-of-a-kind Japanese embroideries in Kanji, Katakana and Hiragana letters. Please note however that foreign names will always be translated using Katakana letters, which reproduce the sounds. Initials are not available in Japanese.
If you already know the Japanese letters you want embroidered
In the product page you can either type the specific letters or upload an image file.
If you want us to translate names/words for you
We provide the translation to Japanese free of charge. So just type the word you want translated (eg. "Courage" or "Mike") and pick one of our Japanese Fonts. If your name has a specific pronunciation, make sure to specify it in the comments section.
---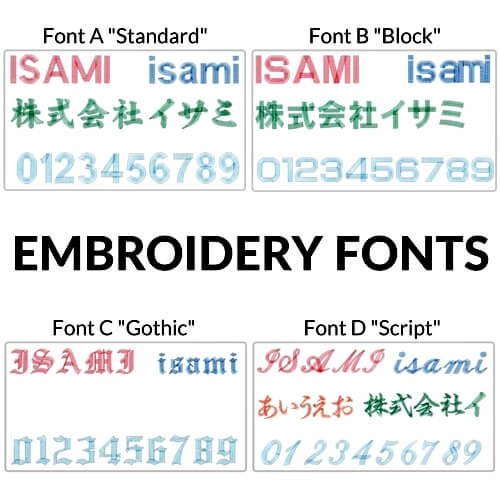 Font A "Standard" - available in English, Japanese (Kanji Kaisho, Katakana Eisen and Hiragana) and numbers.
Font B "Block" - available in English, Japanese and numbers with all characters in Bold style.
Font C "Gothic" - available in English and numbers only.
Font D "Script" - available in English, Japanese (Kanji Gyosho, Katakana Eisen and Hiragana) and numbers.
---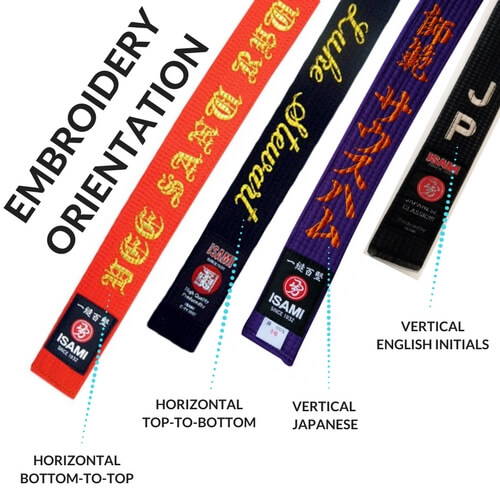 Choosing the right embroidery orientation adds another level of personalization to your belt.
Traditionally Japanese letters are embroidered vertically reading from top to bottom.
English letters can be embroidered vertically or horizontally, except for our Font D "Script" which is cursive and must be horizontal.
When choosing horizontal embroideries, pay close attention to the belt ends to ensure the embroideries look right when you're wearing the belt.
On Side A (right leg) you want it to read bottom-to-top, whereas on Side B (left leg) it should be top-to-bottom.
---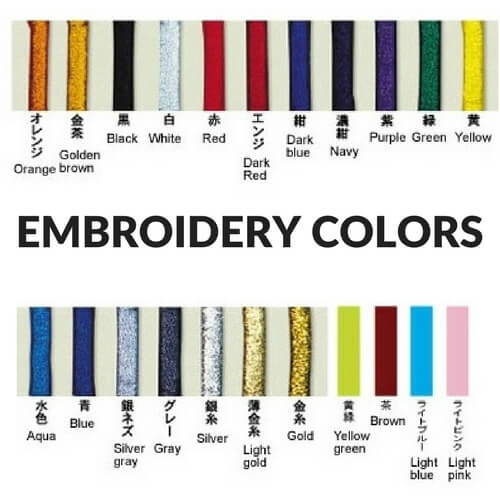 There are 22 different embroidery colors for you to choose from including some dark and light tones.
Take your belt to the next level with metallic colors: gold, light gold and silver.
Choose whether the embroideries should contrast with the belt color (eg. brown belt with orange embroidery) or if they should be discrete and blend in (eg. black belt with black embroidery).
---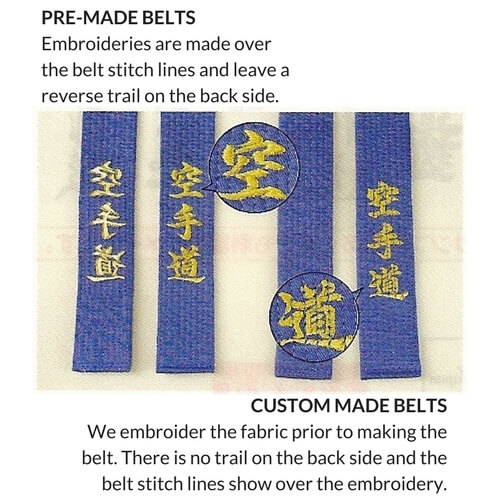 Made to Order belts feature integrated embroideries
This is the most premium method of embroidery and also the most resistent. We embroider the fabric first and then we make the belt. There will be no trail on the reverse side, but the belt stitch lines will be over the embroidery.
Pre-Made belts feature non-integrated embroideries
In other words, we add custom embroideries to the finished belt. The embroidery will be over the belt stitch lines but the reverse side will show a trail.
---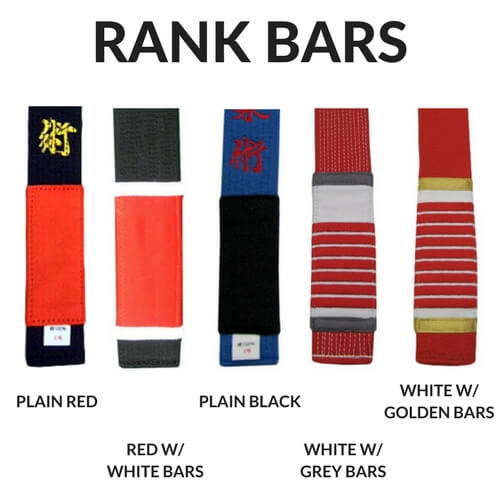 Brazilian Jiu-Jitsu belts traditionally feature a rank bar sleeve on the left end of the belt (our Side B).
Here at ChokeSports you get to choose one of several looks for your rank bar including plain white which has become popular in IBJJF competition in recent years.
You also have the option to have your degrees stitched directly on the rank bar (see below).
---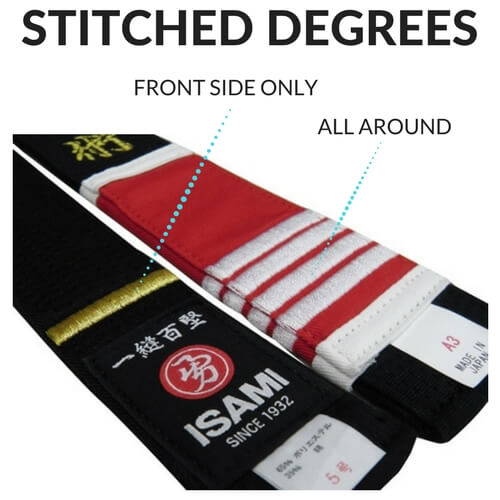 We stitch degrees directly on the belt (or rank sleeve).
Dan stripes can cover the front of the belt only or go all around the belt.
22 colors available so the degrees perfectly match your martial art and taste.
---
This video was shot at the Isami factory in Japan.
The level of craftsmanship involved is just insane.
Order your belt with embrodieries today!