DON'T BE FOOLED BY CHEAP KNOCKOFFS:
ISAMI JAPAN DOES NOT MAKE ANY KYOKUSHIN GEAR ANYMORE
As you have certainly noticed by now, since December 2015 it's no longer possible to order our famous Kyokushin Karate gear from Isami Japan. This includes Kyokushin gis such as K-300 Mas Oyama, apparel such as the Kyokushin T-Shirts and Bags, and also the custom made Kyokushin Black Belts and Rank Belts.
This development in Japan is related to trademark issues among the main Kyokushin organizations. The current status is that neither ChokeSports nor its parent company Isami produce or sell Kyokushin-specific gear anymore. This was a decision taken by our management, as we do not agree with what's being imposed in Japan.
We know this comes as a shock to our many loyal Kyokushin Karateka customers around the world, after all we've been closely connected to Kyokushin since the beginning. Sosai Mas Oyama was a friend of Isami's founder and he wore and popularized our gis and belts in Japan and abroad.
Sosai Mas Oyama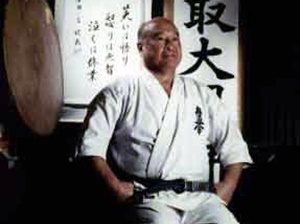 Sosai Oyama used to wear our Isami Gi K-400 then he switched to the upgraded K-500 Gi. Both are available in our store without Kyokushin Kanji and Kanku.
Isami Kyokushin Belts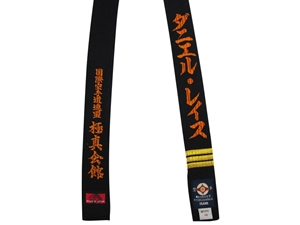 Our Isami Kyokushin Embroidered belts are famous all over the world. You can order our custom made belts without Kyokushin Kanji and Kanku.
What many of our customers have been doing is, they order custom made gis and belts with different Karate embroideries. For example, we can embroider Kanji for Karate, or even Full Contact Karate (mix of Kanji and Katakana), plus the name embroideries in Japanese as is tradition in Kyokushin.
Obviously you can also look for lesser quality Kyokushin goods somewhere else. Just keep in mind that the reason why they are still selling Kyokushin gear is because they have no ties to the grandmasters in Japan. Whereas we, on the other hand, choose to take the budo route, even if at great financial loss. And if you find any "Isami Kyokushin" gear online, you can be sure these are counterfeit items produced in Pakistan. ChokeSports is the official Isami international store. Here you can buy with confidence.
Below is a simple guide to help you find your favorite Isami Kyokushin gi in our store:
K-500 is the plain version of Kyokushin K-300
K-400 is the plain version of Kyokushin K-200
K-480 is the plain version of Kyokushin K-480k
K-450 is the plain version of Kyokushin K-700
K-470 is the plain version of Kyokushin K-470k
K-350 is the plain version of Kyokushin K-800b
K-15 is the plain version of Kyokushin K-150b
K-790 is the plain version of Kyokushin K-790k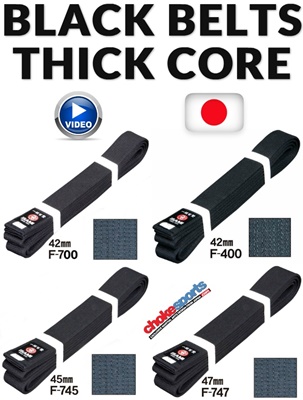 The most popular Black Belt among Kyokushin Karateka was the Isami F-700. This is the thickest and stiffest of all our belts, but we also have other thick core models for you.