The Ultimate Guide to Karate Equipment
Karate, a martial art steeped in tradition, requires the right equipment for both training and sparring. This article will guide you through some ofthe best karate equipment from Japanthat you can purchase online right here at ChokeSports.com. Let's get to it!
Karate Gis: Traditional vs. Full Contact
Karate Gis, or uniforms, are an essential part of the martial art of Karate. They are designed to be durable and comfortable, allowing for a full range of movement during training and competition. The quality of a Karate Gi can significantly impact a practitioner's performance, making it crucial to choose the right one.
When choosing a Karate Gi, it's important to consider your training focus. If you're primarily practicing Kata, a Traditional Gi may be the best choice. However, if your training involves a lot of sparring, a Full Contact Gi would be more suitable. Here at ChokeSports.com you will find a wide range of both Traditional and Full Contact Karate Gis, making it easy to find the perfect Gi for your needs.
The ivory color (unbleached) Isami Mas Oyama Gi K-500 is our best selling Karate uniform of all times. If you like white gis instead, make sure to check the Isami Premium Gi K-480, which is the absolute most premium karategi you'll ever wear. Though we have a long tradition in Kyokushinkai and Full Contact Karate, we also cater to traditional styles such as Shotokan, Goju-Ryu, Shorinji Kempo, Wado-Ryu and Enshin. Isami makes a beautiful Traditional White Karate Gi as well as a popular Black Karate Gi.
Understanding Karate Belts: Symbolism, Colors, and Quality
In the world of Karate, belts are more than just a part of the uniform. They symbolize a practitioner's skill level, experience, and progress in their Karate journey. Each color represents a different stage of development, starting with white for beginners and progressing through various colors until black, which signifies a high level of competence and understanding of Karate techniques.

The color progression varies between different Karate schools, but a common sequence is white, yellow, orange, green, blue, purple, brown, and black. Each color typically requires the practitioner to demonstrate a certain level of skill and knowledge before they can progress to the next.
When buying a new Karate belt, there are a few key factors to consider. The belt should be durable, as it will undergo a lot of wear and tear. It should also be the correct length, typically around your waist twice with enough extra for a knot. The color should be vibrant and not fade easily.
Here at ChokeSports.com we have all colors of Karate belts from white to black. You can personalize your new belt with beautiful embroideries in English and in Japanese and turn it into a unique item!
Isami Karate Black Belt Premium
One of the most prestigious belts in the Karate world is the Isami Karate Black Belt Premium available at ChokeSports.com.
This is the ultimate custom Karate Black Belt for serious fighters: you'll be amazed by the quality and attention to detail. It's handcrafted by master seamstresses in Japan and perfect for training and competition.
Shop Black Belts
Karate Chest Protectors: Essential Gear for Safety and Performance
Chest protectors, also known as body protectors or vests, are an integral part of karate equipment, especially for those involved in competitive sparring. They are designed to absorb and distribute the force of a strike, reducing the risk of injury and allowing karatekas to spar with more confidence and intensity.
ChokeSports.com offers a range of high-quality chest protectors suitable for both training and competition. For those seeking a higher level of protection, the Karate Chest Protector is a great option. This protector features a hard plastic shell over high-density foam, offering superior protection against powerful strikes. Its adjustable straps ensure a secure and comfortable fit.
Whereas the Traditional Karate Chest Guard offers a blend of tradition and protection. It's made from 100% cotton and features a traditional tie-up design. This chest guard is perfect for karatekas who prefer a more traditional look and feel.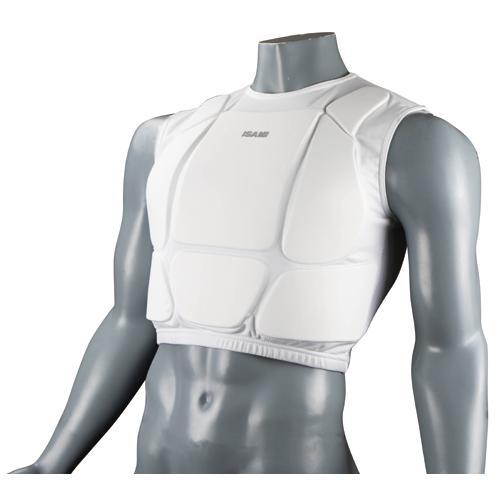 Karate Vest
The Karate Vest is a popular choice, featuring a lightweight design for maximum comfort and mobility. It's made from high-density foam that provides excellent shock absorption.
See More
Karate Headgear: Protection for the Mind and Body
Headgear is a crucial piece of equipment in Karate, designed to protect the head from potential injuries during sparring or competition. It's not just about safety, though. Good headgear can also enhance your performance by giving you the confidence to execute techniques without fear of injury.
ChokeSports.com offers a variety of high-quality headgear options for Karate practitioners. The Kudo Daido Juku Helmet is a standout choice, offering full-face protection with a clear face shield for unobstructed vision. It's designed for Kudo, a mixed martial art that combines elements of Karate, Judo, and Boxing, but it's also suitable for Karate sparring.
For those participating in tournaments, the Karate Tournament Head Guard is a great option. This headgear is WKF-approved and features a lightweight design with ample padding for protection. Its open-face design allows for maximum visibility and breathability.
Lastly, the Wide View Head Guard offers a balance of protection and visibility. It features a wide eye opening for an unobstructed view and a high-density foam construction for excellent shock absorption.
Karate Head Guards
When choosing headgear, consider the level of protection it offers, its fit, and how well you can see while wearing it. Remember, the right headgear can make a significant difference in both your safety and performance in Karate.
Shop Head Guards
Karate Gloves and Hand Gear: Ensuring Safety and Performance
In Karate, protecting your hands is paramount. Gloves and hand gear not only safeguard your hands from injury but also enhance your grip and control during training and competition. They are designed to cover the wrist and knuckles, providing protection from straight punches and other hand strikes. ChokeSports.com offers a variety of gloves and hand gear suitable for Karate practitioners of all levels.
The Isami Karate Gloves are a popular choice, known for their durability and comfort. They are made from synthetic leather and feature a pre-curved design for a better fit. For those seeking additional support, the Hand Wrist Guard is a great option. These supporters are designed to provide extra wrist support and are ideal for those recovering from an injury or those who need additional wrist stability.
The Open Finger Karate Gloves offer a balance of protection and flexibility. They feature an open-finger design that allows for better grip and control, making them perfect for grappling and precision strikes. Lastly, the Reversible Karate Hand Guard is a versatile piece of equipment that offers protection and convenience. It's reversible, with one side red and the other blue, making it perfect for competitions.
Karate Shin Guards: Essential Protection for Lower Legs
Shin guards are designed to protect the shin and instep from the impact of kicks and other strikes, reducing the risk of injury and allowing karatekas to train with more intensity and confidence.
ChokeSports.com offers a range of high-quality shin guards suitable for both training and competition. The Shin Guards Karate are a popular choice, offering a balance of protection and comfort. They feature a lightweight design and are made from durable synthetic leather for long-lasting use.
The Shin Guards with Toe Protection offer comprehensive protection for the shin, instep, and toes. They feature a unique design that includes toe protection, making them ideal for intense sparring sessions.
Wide Shin Guards
For those seeking a wider coverage, the Wide Karate Shin Guards are a great option. These shin guards offer extended protection for the lower leg, covering the shin and instep. They are made from high-density foam for excellent shock absorption.
Shop Shin Guards
Conclusion
The significance of top-notch Karate gear cannot be overstated. From the uniform you wear to the protective gear that shields you, each piece plays a vital role in your training and competition experience. High-quality equipment not only lasts longer but also provides better protection and comfort, allowing you to focus on improving your skills and techniques.
ChokeSports.com offers a comprehensive range of Isami Karate equipment, straight from Japan, known for its superior quality and durability. Regardless of your skill level, equipping yourself with the right gear is a crucial step in your Karate journey.
See All Karate Gear